Complete five or more missions each week for a seat at the weekly 'Mission Complete $5,000 
Freeroll !
Each day you can choose one out of three easy missions to do; completing more than five days a week will give you more chips at the weekly tournament, so make sure you check your missions, daily!
How To Complete Weekly Missions
1. Check your Weekly Mission page, and open up your mission.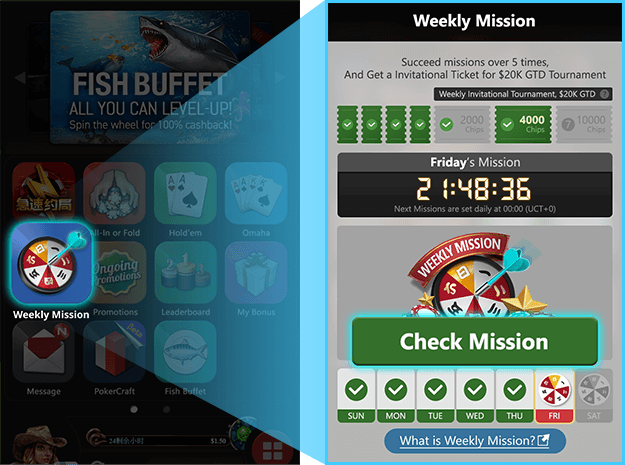 2. Choose one of the three missions for the day, and complete it while playing.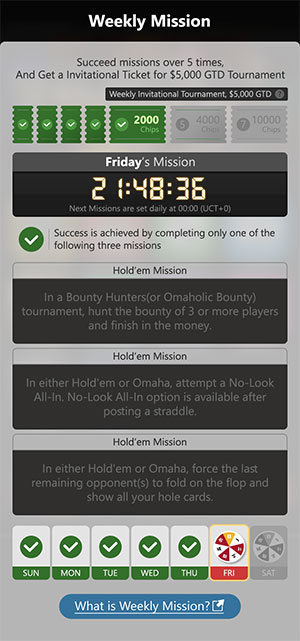 3. Complete at least five per week (Sunday to Saturday), and receive automatic registration to the Mission Complete $5,000 Freeroll.

4. Enjoy the weekly Mission Complete $5,000 Freeroll Information on Sundays, and claim your prize!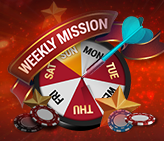 Mission Complete $5,000 Freeroll Information
Tournament Time : Every Sunday 14:00 (UTC+0)
Game Type: No Limit Hold'em
Guarantee : $5,000
Registration : Automatic registration for players who have completed 5 or more weekly missions
Starting Chips : Chips are given based on the number of missions completed for the relevant week.
· 5 : 2,000 Chips
· 6 : 4,000 Chips
· 7 : 10,000 Chips